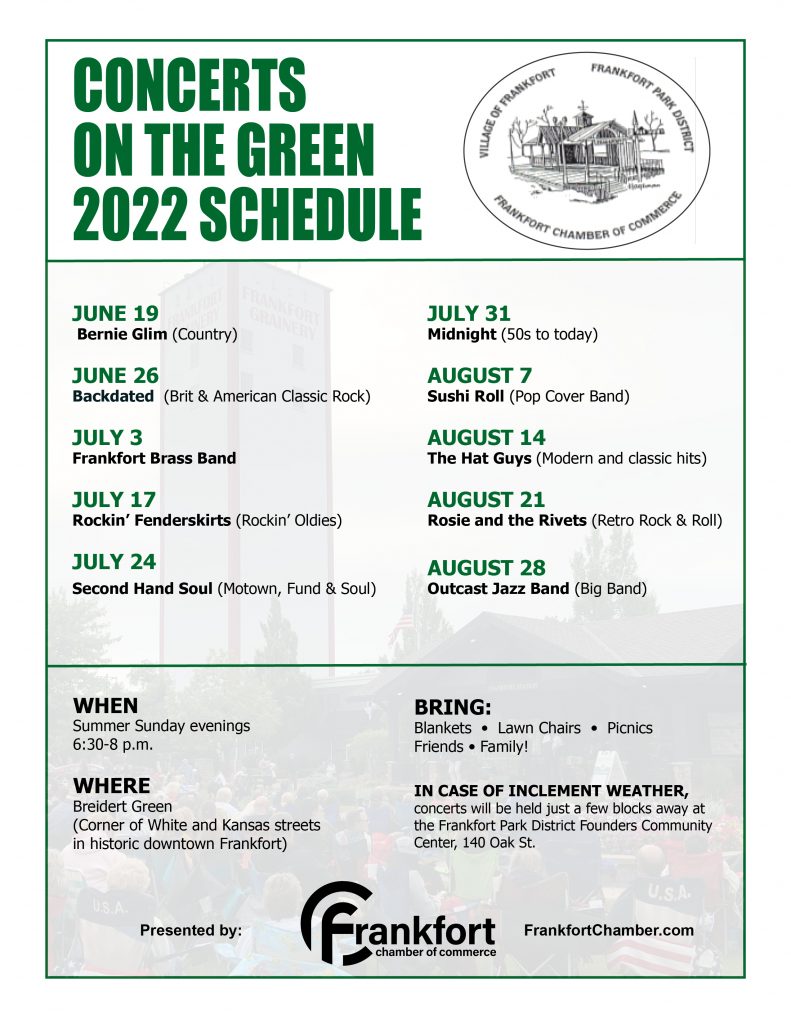 We are excited to be able to once again offer Frankfort's Annual Concerts on the Green Music Series. The concerts are organized by a committee selected by the Frankfort Chamber of Commerce. This series is monetarily sponsored by the Frankfort Chamber of Commerce and many Chamber member businesses and area residents. The Village of Frankfort and the Frankfort Park District also make non-monetary contributions that are absolutely necessary to the operation and success of the concert series.
The concerts are offered every Sunday evening 6:30 to 8:00 p.m. on Breidert Green in the center of Frankfort's Historic Downtown. Public parking is available in several public lots. Bring lawn chairs or a blanket. Admission is free.
Please remember to support the contributors below who give so generously to ensure the continuation of Concerts on the Green.
THANK YOU 2022 CONCERTS ON THE GREEN SPONSORS
CHAMPIONS
Clavio, Van Ordstrand & Associates
Currie Motors Ford of Frankfort
Common Sense (CS) Turf Management
Gnade Insurance Group
RJ Graham Plumbing
BENEFACTORS
Bill's Lawn Maintenance and Landscaping
Gerald Honda of Matteson
Phillips Chevrolet
Snow Family Dental
Town Center Bank
Trail's Edge Brewing Co.
PARTNERS
Always Home Real Estate Services
Baird & Warner, Frankfort
Chiariello Behavioral Health
Frankfort Area Historical Society
MA3 Healthcare Solutions
Old Plank Trail Community Bank
Phoenix Fire Systems Inc.
Quantum Technical Services Inc.
Rachael Rae Group
Silver Cross Hospital
Tom & Lois Barz
SUPPORTERS
Aurelio's Pizza, Frankfort
Chip & Lori Krusemark
Down Home Guitars
Friends to Elect Judge Smigielski
Jeff Tuminello for Will County Judge
Jim and Stacy Holland
Local Printing & Design
Pactiv Evergreen
Plus One AV
State Farm-Terry Gross
CONTRIBUTORS
Burke Orthodontics
Carol Mosier
Don & Jeanne Schwarz
Enrico's Italian Dining
Express MedSpa
Glatz Management Services Inc.
Kakadoodle LLC
LincolnWay Community Bank
MacKenzie Hair Parlor Inc.
Peace Lutheran Church
Peggy Slager
St. Peter's United Church of Christ
Studio M Hair Salon
Sue Wolf
This & That Gifts