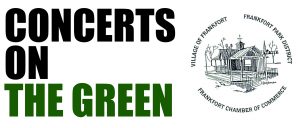 Concerts on the Green Update
The Frankfort Chamber of Commerce is seeking your support for its annual Concerts on the Green series. While we had to cancel last year's concerts due to COVID-19 restrictions, we are moving ahead this year in hopes that we can resume this very successful, highly visible program. The Concerts are held Sunday evenings from Father's Day to the end of August at Breidert Green in historic downtown Frankfort.
They are well attended and attract many visitors from surrounding suburbs. Attendance ranges from 500 to 1100 people each week.
Independent, private sponsors, such as you, make this fine program possible. Since1998, we have asked for your support, so that we may continue to offer an excellent array of entertainment.
Please help us make this local event a huge success once again. All donations are sincerely appreciated and will be recognized as indicated in the chart below.