Upcoming Events for January & February 2021

PPP Loan Program Update Webinar
11:30am
Thursday, Jan. 21
Register here
Zoom link sent after you register.
Free for Frankfort Chamber members, $10 for non-members
What you need to know about the new round of PPP Loans
presented by Ryan Bergeron, Sr. Vice President of Town Center Bank
Topics Covered:
Who qualifies
What to submit with your application
What the process will likely look like
The basic rules of the program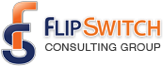 Tuesday, January 26
11:30am-1pm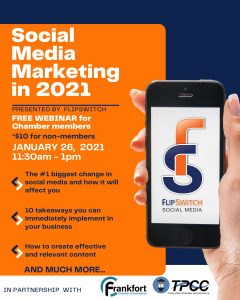 Who's ready for a new year?!  The past year has shown us that social media marketing is more important for small business than ever before. Social media usage has more than doubled and a new year is the perfect time to revise your strategy and not just maintain your business, but actually GROW it!
In this webinar presented by Dan Peterson, of FlipSwitch Social Media, you'll learn:
• The #1 biggest (and scariest) change in social media and how it's going to affect your entire social media strategy!
• Ten takeaways you can immediately implement in your business!
• How to create exciting, relevant content that appeases the algorithms and your audience alike!
And much more!
Your business depends on your knowledge of social media, so you can't afford to not attend this online event! Register now!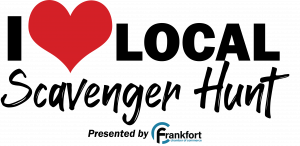 Starting February 1, 2021
The public will be invited to download a free game card with a list of participating businesses and sponsors. Game cards also will be available at participating businesses.

Hunters will have to find each business, find the red heart (either in the window or inside the business) and write down the word(s) on the heart--and possibly do some shopping, too! When hunters have visited all the businesses and written down all the words, they should turn in their card at the Chamber office, 123 Kansas Street, or email it to  Kris@FrankfortChamber.com to be entered into a weekly prize drawing that will take place on Mondays February 8,15, 22 and March 1.

For More Information or to Register Your Business Click Here
2021 "Welcome to Frankfort"
Reach 8,000 households through direct mail delivery to residents and businesses in Frankfort with our Community Guide. The Frankfort Chamber of Commerce, in cooperation with Shaw Media, is producing a comprehensive guide for the Frankfort area. Chamber members will have the opportunity to share their advertising message in a publication that will have excellent exposure and a long shelf life.
Contact LORA HEALY to reserve your spot today!
C: (708) 377-8413
LHealy@shawmedia.com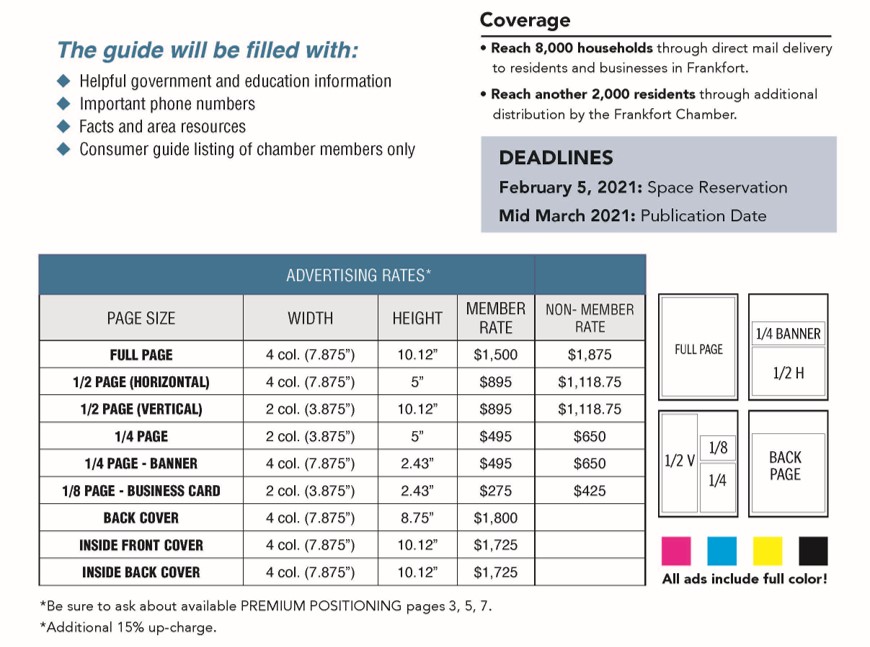 FCC MEMBER MARKETING OPPORTUNITY
Provide a coupon, special offer and/or small promotional item to our
NEW-RESIDENT WELCOME TO FRANKFORT GIFT BAG
Get your business information in the hands of every new Frankfort resident in 2021. Welcome to Frankfort New Resident Gift Bags are given out to each new resident when they set up their utility account at the Frankfort Village Hall. 
Participation Process:
Registration: Sign up here that you wish to include your promotional information/item in the bags
Fee: $200 Business; $0 Non-Profits
Number of items: We ask for at least 100 identical items
Item Drop off Deadline: End of the month
Drop Off Location: The Frankfort Chamber of Commerce, 123 Kansas Street

Chamber Members who provide printing and/or promotional items for the Gift Bag Program include:
Action Sports  75 Bankview Dr., Frankfort, IL 60423     www.actionsports.com
Advertising Solutions  26444 S. 88th Ave., Monee, IL 60449     www. shopadvertisingsolutions.com
Image360  Mokena9960 191 Street, Suite E, Mokena, IL 60448     www.image360mokena.com
Local Printing & Design  9 W. Nebraska, Frankfort, IL 60423     www.localprintinganddesign.com
Minuteman Press Frankfort  55 Bankview Dr., Frankfort, IL 60423     www.frankfort-il.minutemanpress.com
On Time Design, Inc.  19252 S. Blackhawk Pkwy, Unit 75, Mokena, IL 60448     www.ontimedesign.com
Perma Graphic Printers  216 N. Marley Road, New Lenox, IL 60451     www.permagraphicprinters.com
QBF Graphics Group  18650 Graphics Court, Tinley Park, IL 60477     www.qbfgraphics.com
US Safety Products  24 Sangmeister, Unit B, Frankfort, IL 60423     www.ussafetyproducts.com
If you have any questions, please email Kris@FrankfortChamber.com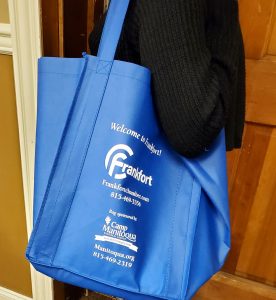 You can join the program at any time during the year, our deadline to stuff the bags with your items, is by the end of the month. **Example for the February 2021 stuffing the deadline is March 31, 2021

Annual Membership Meeting & Dinner
POSTPONED! WATCH FOR FUTURE DATE

CD & ME (in The Mica)
23320 S. LaGrange Rd, Frankfort
TICKETS $40 for members/$50 for non-members *Includes plated dinner & dessert. Cash bar. Please consider bringing canned or dry food items to donate to the Frankfort Township Food Pantry.
SPONSORSHIPS $50 to display a centerpiece for a table & six small gifts for the members at that table. It should represent your business, organization or cause.
If you want your event listed as below, please log into your chamber account, click on the box listed as event, then click the purple button to add it! Once approved, you can share the link via email or on an social platform.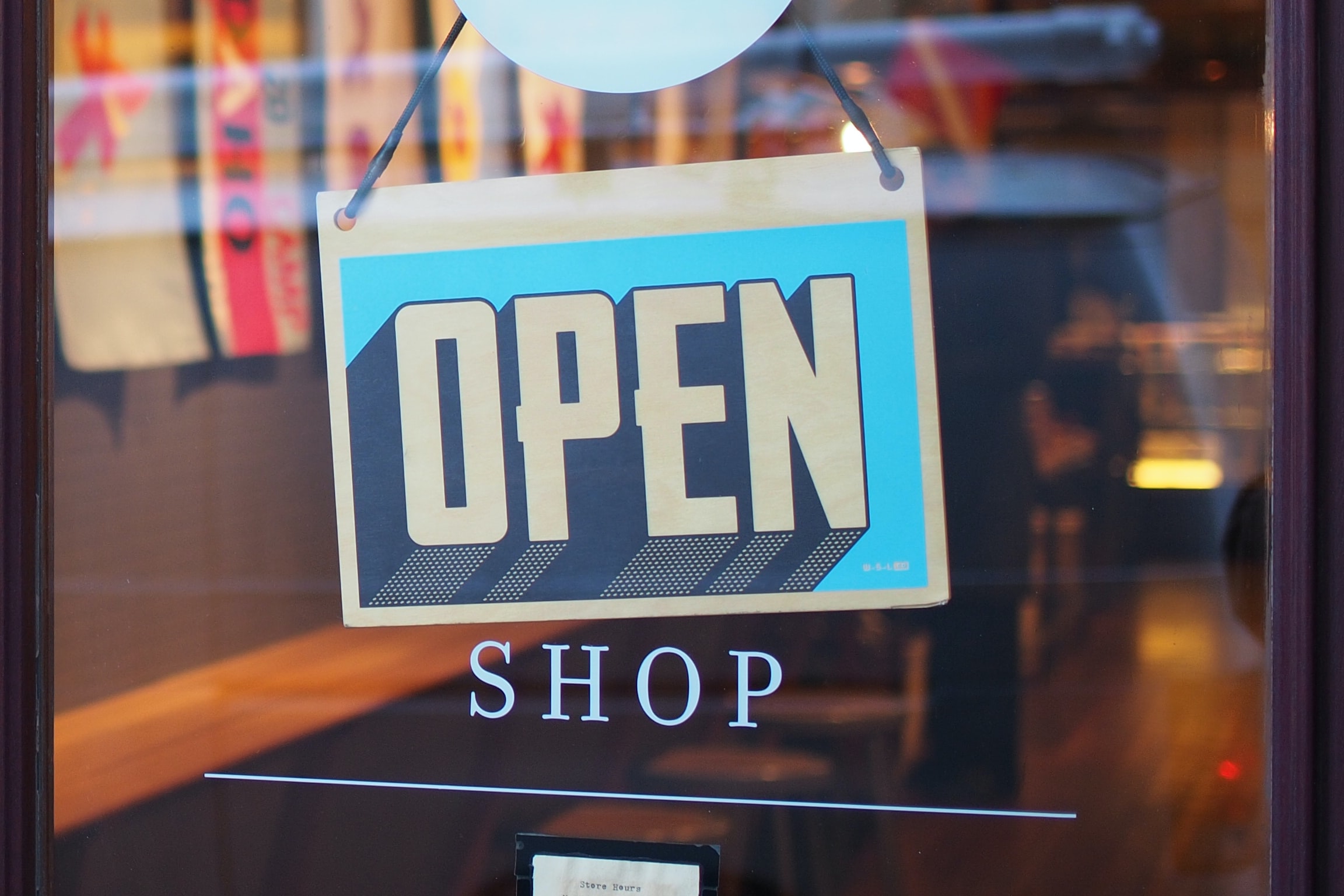 Small Business Funding Options

In addition to traditional SBA funding programs, the CARES Act established several new temporary programs to address the COVID-19 outbreak. Here you will find information on Paycheck Protection Program, Economic Injury Disaster Loans, SBA Express Bridge Loans, and SBA Debt Relief.
Restore Illinois Resources For Addressing COVID-19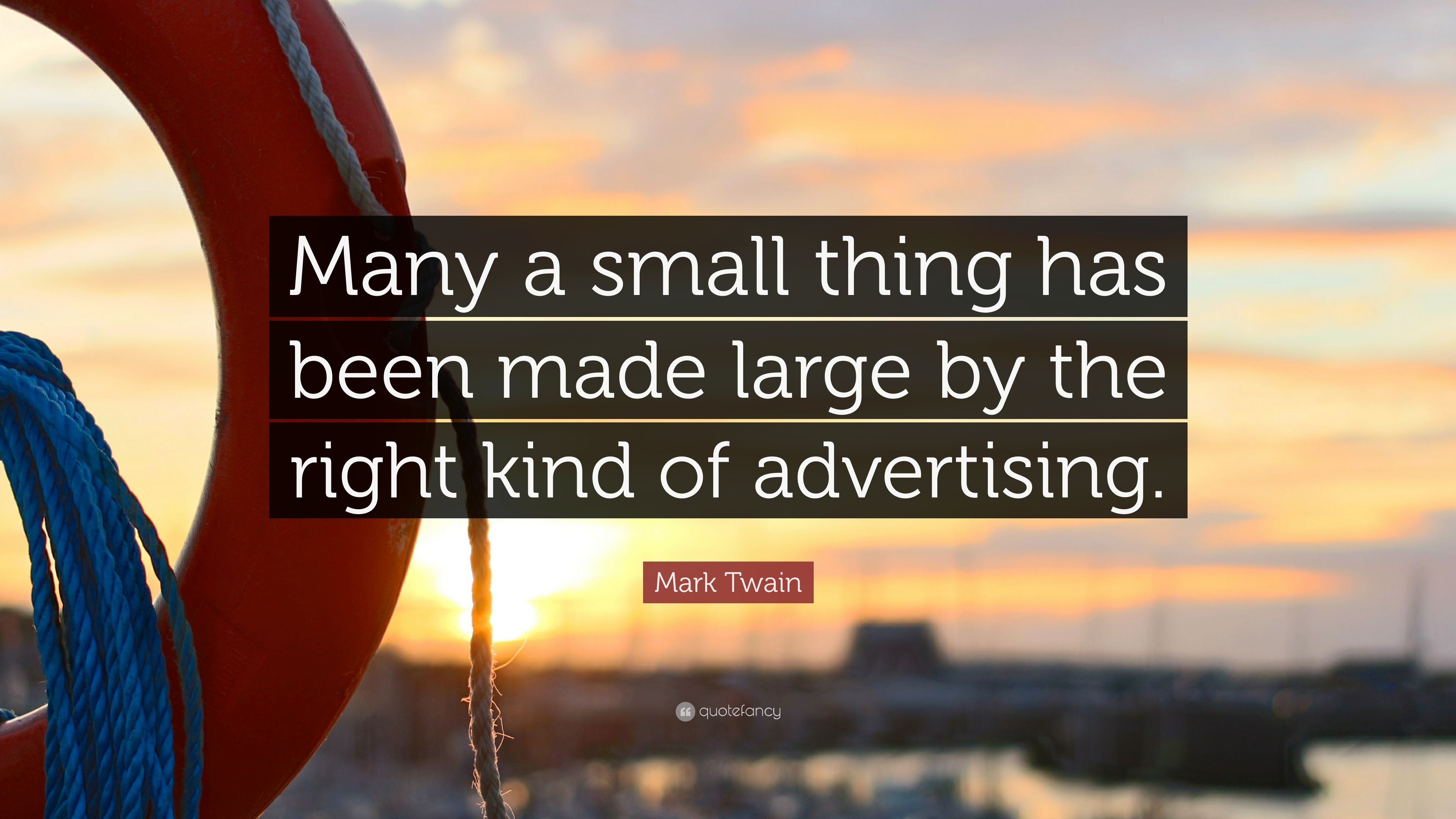 For Only $75
Your own dedicated email sent to 1000 contacts
* Promote an event, a new product or service, a new business partner, etc.
* You provide the ad in a high quality jpeg or pdf format, we send it out.
* Schedule yours today!
Chamber reserves the right to approve all content.
We want to shine the spotlight on YOU!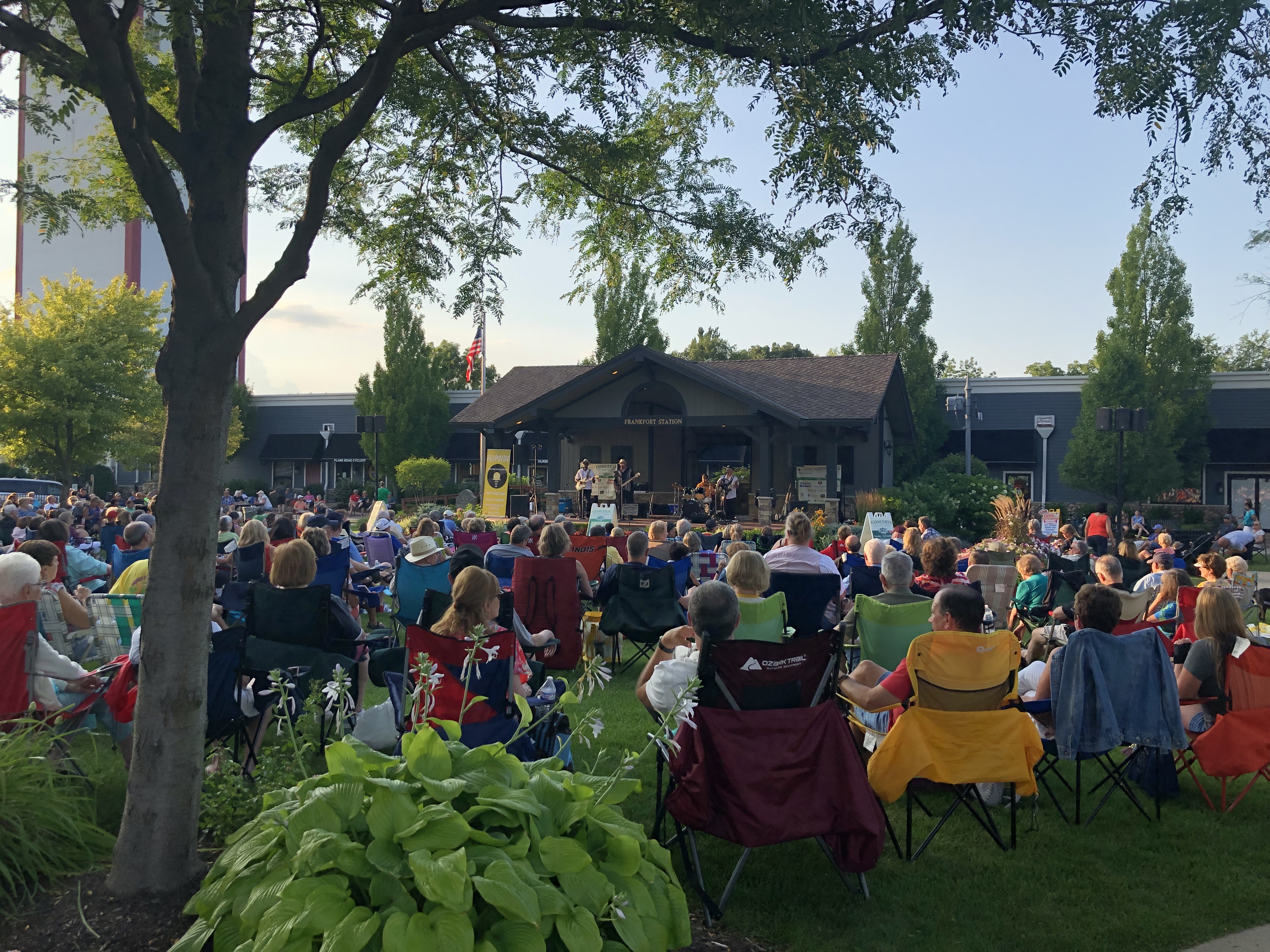 CONCERTS ON THE GREEN
In May, when we canceled the June and July concerts, we were hoping to be able to resume in August. Unfortunately, that will not be possible.
After much discussion with Mayor Jim Holland, we are not able to comply with the Restore Illinois Phase IV guidelines and ensure a safe, controlled environment for concert-goers and our community.
Thank you again for your continued support of this great Frankfort tradition. We look forward to offering Concerts on the Green again next year.
Frankfort Chamber Concerts on the Green Committee members
Pam Griffin
Chris Herder
Kim Herder
Judy Hageman
Sam Giordano
Tom Ballard
Katie Stempniak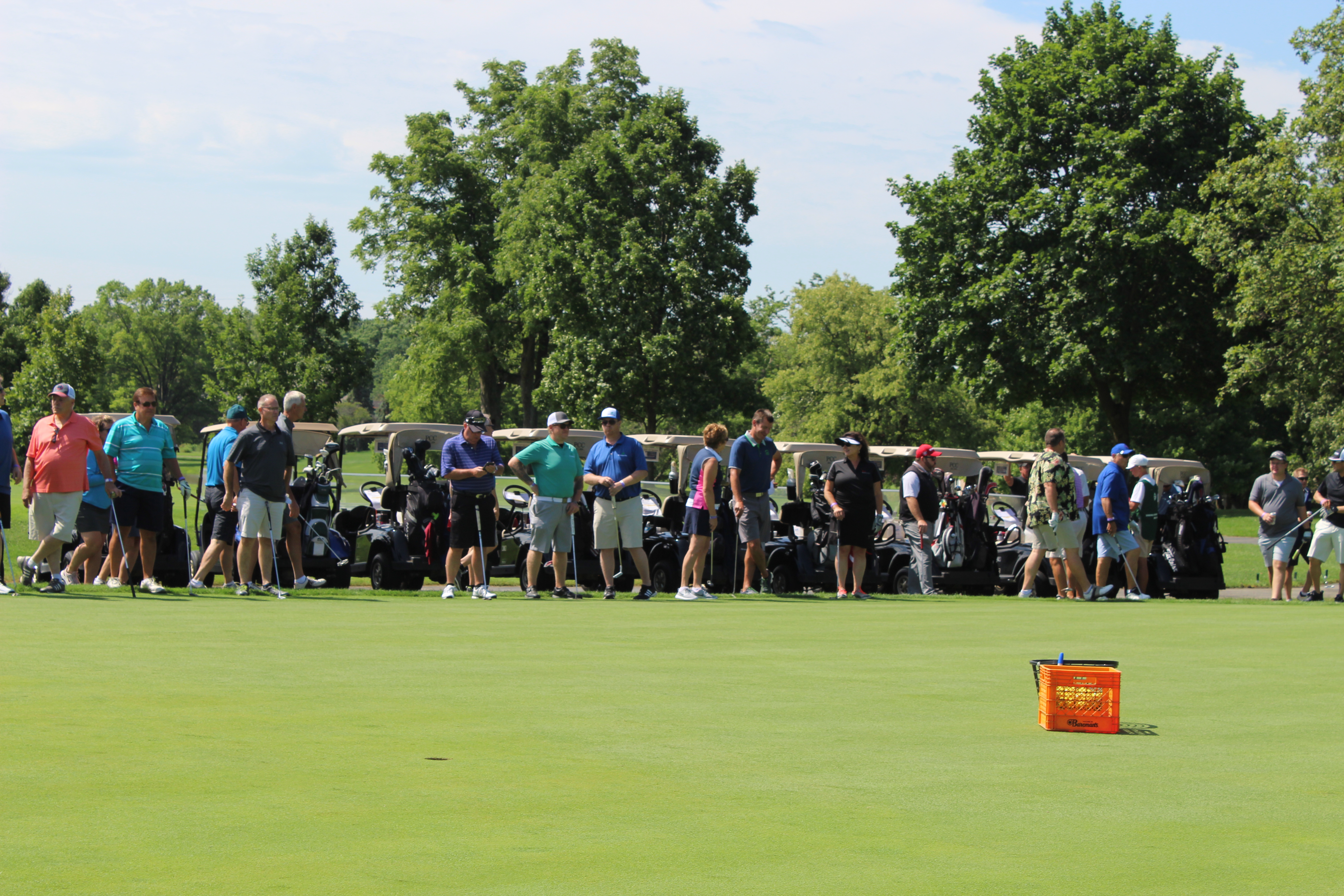 COMMUNITY GOLF OUTING
Join us at Prestwick Country Club for our
Annual Community Golf Outing on Monday, Sept. 21!
Shotgun start at 11 am.
Golf registration includes cart, lunch and snacks on the course, two drink tickets, 19th hole appetizers, and more!
**Promote your products and services by donating a raffle item valued at $50 or more.
• Recognition on Frankfort Chamber social media, website, e-newsletter & program
• The opportunity to put a small premium item in the swag bag
Click here to register for this event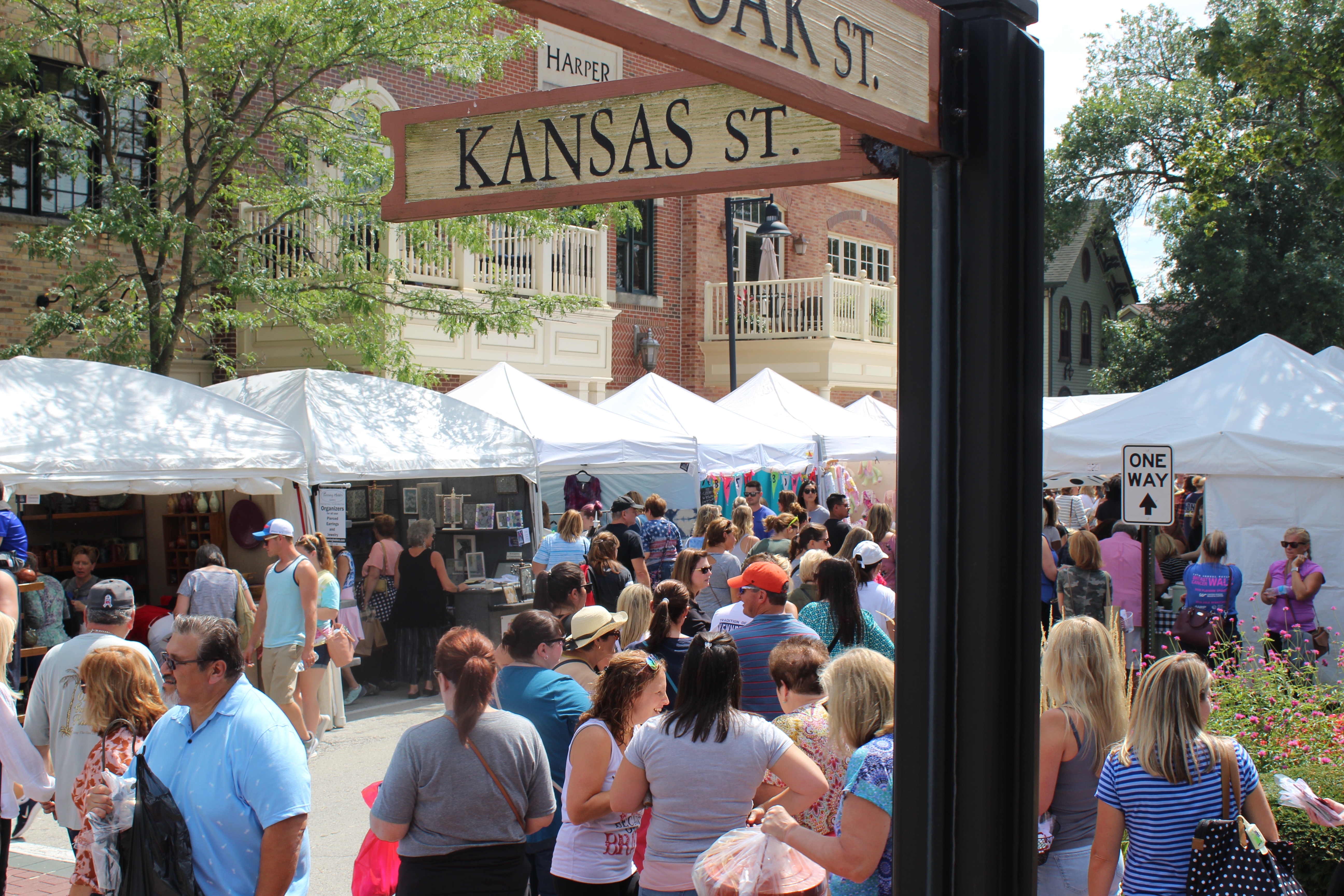 FRANKFORT FALL FESTIVAL
Frankfort Fall Festival will not be happening in the streets of downtown Frankfort this weekend, but the artisans who were accepted into the 2020 Fall Fest have been invited to share their information and some photos of their products on this page over the weekend to allow patrons and the community to connect with them. Check back over the weekend to "visit" your favorite booths and some new ones!
Please click here to visit our Frankfort Fall Festival Page for past pictures and for the the latest updates on Frankfort Fall Festival 2021!
Sponsorship Opportunities
Increase Your Visibility in the Community
The Chamber hosts over 30 events every year - truly something for every type of business and member.
As one of IL's largest and most active Chambers, we are delighted to be able to offer members so many
different and well-attended opportunities to promote their business, staff, and market their products and services.
Jan-Nov
Meet, Greet & Network every third Tuesday morning of the month. Please contact kris@frankfortchamber.com for available sponsorship or presenter opportunities!
February
Chili Cook-Off, part of the Village's Winter on the Green series
FAWN (Frankfort Area Women's Night), a fundraiser for a local non-profit
March
Community Showcase, featuring about 100 local businesses, food and entertainment
April
Pub! Grub! Network! Hop on the bus and stop at three local establishments for appetizers, drinks and networking.
June
Community Golf Outing, June 21, 2021 at Prestwick Country Club
June-August
Concerts on the Green, live music Sunday evenings at Breidert Green
Labor Day Weekend
Frankfort Fall Festival, featuring more than 300 artisans, entertainment, food, drink and more
September
Wined-ing Through Frankfort Wine & Ale Walk, the last Sunday in September with stops at about 30 businesses in historic downtown
November
Annual Meeting, welcoming our Board of Directors for the following year.
December
Chamber Open House, held during the Frankfort Historical Society's annual House Walk