Frankfort Chamber of Commerce Annual Event Sponsorship Opportunities
Please contact the Chamber office if you are interested in sponsoring any our events.  Please note all events are tentative and subject to cancellation or change due to COVID-19 restrictions.
Jan-Nov
Meet, Greet & Network every third Tuesday morning of the month.
February
Chili Cook-Off, part of the Village's Winter on the Green series
FAWN (Frankfort Area Women's Night), a fundraiser for a local non-profit
May
Community Showcase, featuring local businesses, food and entertainment
June-August
Concerts on the Green, live music Sunday evenings at Breidert Green
July
Community Golf Outing, July 15th at Green Garden Country Club
Labor Day Weekend
Frankfort Fall Festival, featuring more than 300 artisans, entertainment, food, drink and more
September
Wined-ing Through Frankfort Wine & Ale Walk, the last Sunday in September with stops at about 30 businesses in historic downtown
November
Annual Meeting, welcoming our Board of Directors for the following year.
Current Sponsorships Available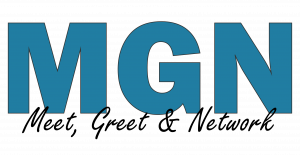 Seeking Sponsors & Presenters 
for 2021
The Meet, Greet & Network Committee is now seeking Presenters and Sponsors for the 2021 MGN season (Jan-Nov). Each month has one Sponsor and one Presenter.
As a Sponsor:
* You are recognized on MGN promotions in our newsletter, on our website and on social media.
* You get 5 minutes to promote your business or organization to those in attendance.
* Sponsorship fee is $150, which helps cover refreshments. You will be billed at the beginning of the month you sponsor.

If you are interested in being a 2021 Sponsor or Presenter or have any questions, please email kris@frankfortchamber.com. These spots will be filled on first-come, first-served basis.
We look forward to another great year of networking, learning, welcoming new members, and more!
2021 Frankfort New Resident Gift Bag Program
FCC MEMBER MARKETING OPPORTUNITY
Provide a coupon, special offer and/or small promotional item to our
NEW-RESIDENT WELCOME TO FRANKFORT GIFT BAG
Get your business information in the hands of every new Frankfort resident in 2021. Welcome to Frankfort New Resident Gift Bags are given out to each new resident when they set up their utility account at the Frankfort Village Hall. 
Participation Process:
Registration: Sign up here that you wish to include your promotional information/item in the bags
Fee: $200 Business; $0 Non-Profits
Number of items: We ask for at least 100 identical items
Item Drop off Deadline: End of the month
Drop Off Location: The Frankfort Chamber of Commerce, 123 Kansas Street

If you have any questions, please email Kris@FrankfortChamber.com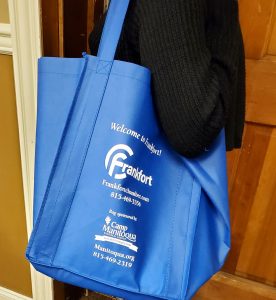 You can join the program at any time during the year, our deadline to stuff the bags with your items, is by the end of the month. **Example for the February 2021 stuffing the deadline is March 31, 2021

Chamber Members who provide printing and/or promotional items for the Gift Bag Program include:
Action Sports  75 Bankview Dr., Frankfort, IL 60423     www.actionsports.com
Advertising Solutions  26444 S. 88th Ave., Monee, IL 60449     www. shopadvertisingsolutions.com
Image360  Mokena9960 191 Street, Suite E, Mokena, IL 60448     www.image360mokena.com
Local Printing & Design  9 W. Nebraska, Frankfort, IL 60423     www.localprintinganddesign.com
Minuteman Press Frankfort  55 Bankview Dr., Frankfort, IL 60423     www.frankfort-il.minutemanpress.com
On Time Design, Inc.  19252 S. Blackhawk Pkwy, Unit 75, Mokena, IL 60448     www.ontimedesign.com
Perma Graphic Printers  216 N. Marley Road, New Lenox, IL 60451     www.permagraphicprinters.com
QBF Graphics Group  18650 Graphics Court, Tinley Park, IL 60477     www.qbfgraphics.com
US Safety Products  24 Sangmeister, Unit B, Frankfort, IL 60423     www.ussafetyproducts.com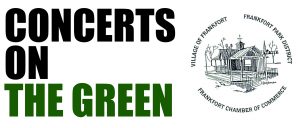 The Frankfort Chamber of Commerce is seeking your support for its annual Concerts on the Green series. While we had to cancel last year's concerts due to COVID-19 restrictions, we are moving ahead this year in hopes that we can resume this very successful, highly visible program. The Concerts are held Sunday evenings from Father's Day to the end of August at Breidert Green in historic downtown Frankfort.
They are well attended and attract many visitors from surrounding suburbs. Attendance ranges from 500 to 1100 people each week. Independent, private sponsors, such as you, make this fine program possible. Since1998, we have asked for your support, so that we may continue to offer an excellent array of entertainment.
Please help us make this local event a huge success once again. All donations are sincerely appreciated and will be recognized as indicated in the chart.